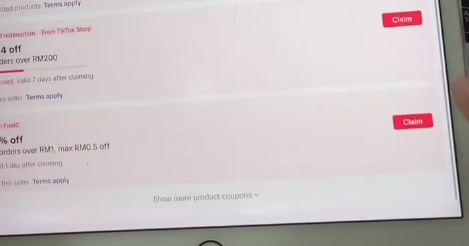 Did you know that TikTok has transformed from being just a social media platform to an online marketplace? The TikTok Shop now offers you the opportunity to buy anything you desire, and guess what? FindC Marketing has also set up shop on TikTok!
For those who are looking to shop with us, we've got some exciting news. Our TikTok store is currently offering a plethora of vouchers that you can claim. But that's not all – TikTok itself is also generously providing various vouchers for you to enjoy. Feel free to claim as many as you can!
When it's time to check out, remember this fantastic perk: you can apply two vouchers (both the seller's and TikTok's vouchers). And if luck is on your side, you might even snag free shipping. That's a total of three vouchers to be used! Now, isn't that an intriguing offer?
The savings are substantial, my friends. Don't hesitate for too long! Come on over and pay us a visit on TikTok. Your ultimate shopping spree awaits!
Link: https://www.tiktok.com/@findcmarketing?_t=8a8mnwqTCtd&_r=1